Play Now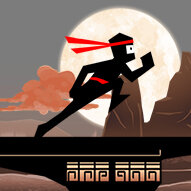 In The Speed Ninja, stretch your legs before starting the game because you are going to jump over the buildings, ninja friend! You definitely came to this world to be a ninja! Nobody, except you, can jump like this! So jump into the game and show your skills!
Have you ever dream of jumping over the buildings without being noticed by the people? Well, even if you haven't dreamed, in this game you will do it! Because you are a ninja known by everyone and you have a vital job! So, in this game, your objective is to jump over the obstacles and enemies by using your arrow keys. Your enemies can show up anytime, keep your eyes open! You can use your right arrow key to throw your shuriken at them and also destroy some obstacles with these sharp tools. Press the up-arrow key to jump over gaps and deadly traps and you can also double jump by using it two times to reach the high platforms. Don't forget to follow your progress at the top of the screen! And try not to fall down between the buildings! To increase your final score, don't forget to collect the coins scattered around. Try your best, ninja!
Do you want to play more games like this one? If so, take the different challenges in our collection of free and online running games.
Developer
Playtouch developed The Ninja Speed.
Release Date
March 11, 2018
Features
100 levels to complete
Challenging gameplay
Intuitive controls
2D colorful graphics
Controls
You can use your arrow keys to play this game.