Play Now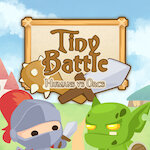 In Tiny Battle, rally your units and face the threat of orc warriors! Your kingdom is wealthy and beautiful, and your riches have attracted the attention of your barbaric neighbors. They started marching into your land, and you must stop them. Do you have what it takes to survive this battle?
Keep your eyes on the horizon, and start training your troops! The objective of this game is to survive against the invasion of orcs as long as you can. You can play this game with your mouse. Before these orcs get a chance to lay a finger on your kingdom, you should start training different units for defense. Click on the unit icons on the screen to create units. Keep in mind that you can only have 30 units max. Can you hear the war cries of the orcs? Move around the map with your mouse and find those enemy warriors. Click on the button in the top left corner to select all the units on the screen, and order them to attack! The orcs will attack you in waves. With each orc you kill, you'll earn coins. These can be used to train units. You lose the game if your castle gets destroyed. Good luck!
Ready for more? Build a medieval empire and expand your influence through the land in our other game Legends of Honor, by clicking here. Have fun playing!
Developer
MarketJS developed Tiny Battle.
Release Date
April 17, 2019
Features
Colorful 2D graphics
Cute character designs
Intuitive controls
Entertaining gameplay
Different units types that you can train
Controls
You can use your mouse to play this game.