Play Now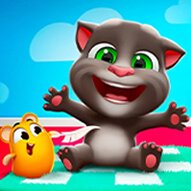 Witness fabulous shots taken from Tom's adventures and find the hidden stars with Tom Hidden Stars! Tom has a lot of stories to offer: from a casual pose in the kitchen before he eats a carrot to a shot of him with a firehose, saving the city with his fellow dragon! Come and take a closer look at his journeys!
There are six unique images with carrots, friends, monsters, and parkour runs! They all include Tom as well as ten hidden stars! These tiny shiny objects are so well-camouflaged that you will need two or three tries on some levels! Don't let that bring you down; you can take a break and try again whenever you want! Uncover the hidden stories of Tom and his friends, the bravery he puts out to save people, the monsters they fight, and their daily lives at home! Take a peek into the situations they put themselves in while solving six challenging puzzles. Try to ignore the countdown to avoid stress and the mistakes that come with it. Get a better vision for the smallest details and changes in colors with every completed stage, and level up your puzzle skills!
If you like the incredible stories of this lovely gray cat, you can check out Tom Runner and get to the action!
Developer
New Kids Games developed Tom Hidden Stars.
Release Date
January 14, 2022
Features
Six unique images
Fun for all ages
Improving puzzle skills
Available on mobile devices
Controls
You can use your mouse to play this game.