Play Now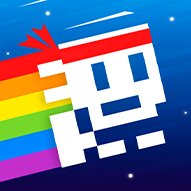 A little friend with balance problems is stuck in Tomb of the Mask Neon and needs your help with discoveries to make. This nostalgic 8-bit world is full of traps and neon monsters, and our friend can only move next to walls and jump from one wall to another. There is no doubt that if you two come together, you can make it out of this crypt alive, but it might take a while.
You can see a large portion of the map around you. Everything that does not look like a part of the crypt's walls is a trap. Some will throw spikes, some will throw arrows, some will just kill you upon touching. Blue platforms that throw spikes take a second to react, so move quickly, and you will be safe. You can watch the arrows and wait for the right moment to move. As for the instant-death platforms; avoid them altogether, just like you will do with the glowing bats. If you get stuck in a level for a while, the game removes the bats on that specific level. Collect all three stars on every level to pass them. The dots you collect on the way determine your score. You will face more enemies in more complex arenas as you advance. Good luck!
If you like this nostalgic adventure, you might also enjoy Pixelkenstein Halloween.
Developer
kiz10.com developed Tomb of the Mask Neon.
Release Date
December 16, 2021
Features
Neon arcade theme
25 levels of adventure
Easy to play
Fun and challenging gameplay
Controls
Use your arrow keys to control the character.