Play Now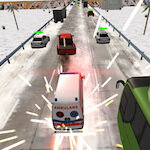 In Traffic Crash, take control of an ambulance, and try to drive through the city traffic. As the driver of an ambulance, you should be fast, and shouldn't let any traffic jam to slow you down. Turn on your sirens and try to travel as far as you can in this game.
As a paramedic, you should be fast in emergencies. Jump into your ambulance and hit the road. The objective of this game is to drive as far as you can with your ambulance through the traffic without causing any crashes. When you start the game, you'll see your vehicle. On this screen, you can choose one of the 2 ambulances and upgrade their stats. When you're ready, click on the play button in the bottom right corner. Select one of the 3 levels to play and a difficulty setting. Your vehicle moves on its own, but you should change its directions to avoid crashing into other vehicles. Collect health tokens to repair yourself if you're damaged, and the nitro tokens to fill your nitro meter, which can be seen on the right side of the screen. Have fun!
Take control of different vehicles and drive them around in our free car games. Check our collection and browse our online games! Enjoy!
Developer
JulGames developed Traffic Crash.
Release Date
February 8, 2019
Features
Colorful 3D graphics
Different vehicles to drive
Intuitive controls
Entertaining gameplay
3 different levels to play in
3 difficulty modes to select
Controls
Use the A and the D keys or the left and right arrow keys to control your car. Press the SHIFT to activate your nitro boost.