Play Now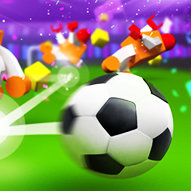 Tricky Kick is the trickiest soccer game ever! In this football game, you are in the arena with many other players. You just need to pass by them to score a goal! Are you ready for some sports activity? If the answer is yes, start to play now!
Tricky Kick is an entertaining football game where scoring will be your objective. In order to start the game, click on the play button on the main menu. When the play starts, click on the screen to move the ball. That's nothing out of the ordinary in this game, but there's a single direction of movement, you need to dribble past to the left or right side. The game seems very simple and you can overcome it, but you will face some obstacles in the game that you will need to pass by. Be careful! If your player hits one of them, the ball explodes, and you will have to start again! The obstacles may be opponent players or colored walls. You will see how many balls you have in the top left corner of the screen. You will lose a ball with each failed attempt, but you will gain it by completing a level. To unlock other balls from the in-game store, you can use these. Good luck and enjoy the game!
Do you trust your skills at sports games? If so, take the different challenges in our collection of free and online sports games.
Developer
Digi Smile Ltd. developed Tricky Kick.
Release Date
April 9, 2020
Features
3D colorful graphics
30 levels to complete
Intuitive gameplay
Different balls to unlock
Controls
You can use your mouse to play this game.