Play Now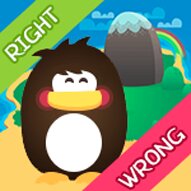 In Trivia Best Family Quiz, get ready to test your knowledge of the world around you. Featuring nice 2D graphics and fun gameplay, this game will challenge your knowledge and make you learn new stuff at the same time. Are you ready to challenge yourself and see if you'll get all the questions right?
It's important to always be your biggest competitor. Challenge yourself every day to become better than you were yesterday. This game will test your knowledge in geography, history, nature, and many more interesting topics! What is the fastest car in the world? Can you name the tallest tree? Let's play now and find out. Your objective is to unlock four precious pets by answering questions and opening chests. All you need is your mouse to play this game. When you see the question, take your time and choose the answer you think is right. There is no time limit to pressure you. You can also click on the wrong answer, that won't stop you from continuing the game! You'll only lose an energy which you can earn from treasure boxes. Have fun playing!
We live in a beautiful world where there are countless things to learn. Play Quizzland by clicking here and see if you know the world you live in well enough. Good luck and enjoy!
Developer
AppyApp developed Trivia Best Family Quiz.
Release Date
June 04, 2021
Features
4 adorable pets to unlock
Many different questions to answer about different topics
Fun and addictive gameplay
Nice 2D graphics
Controls
You can use your mouse to play this game.