Play Now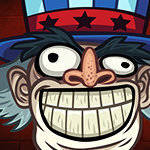 In Trollface Quest: USA 1, the infamous trickster is back with his pranks that try your patience! This time he targets the USA to drive everyone out of their minds there! Use your knowledge of popular culture to beat him in his own puzzles. Are you ready to show off your intelligence while traveling all around America from famous places, soccer matches to even best-known movies? If so, here we go!
Jokes are supposed to make you laugh normally. But with this troll, everything comes off the hinges. Well-planed savage pranks without any borders can be annoying and take a little time to solve. But luckily, we have you on our side to beat this prankster. To play this fun puzzle game, you only need your wits and your mouse. Simply click on the objects you see in the scene in the correct sequence to solve the puzzles. If you get stuck, no worries! You have 5 hints to use during the whole game. You can check your remaining hints by clicking on the question mark at the top of the screen. If you fail, you can play any level as many times as you want. Now, get out there and give that trickster a rough time!
If you want to try another game of this popular game series to beat that prankster in other adventures, then be sure to check Trollface Quest: Horror 3.
Developer
Azerion developed this game.
Release Date
December 9, 2019
Features
2D colorful graphics
17 pranks to stop
Funny characters
USA icons
Controls
You can play this game with your mouse.