Fireboy and Watergirl 5: Elements
Play Now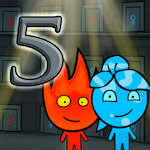 In Fireboy & Watergirl 5: Elements, join the elemental couple through an adventure of a lifetime! Joined their forces once again for the 5th time, no amount of traps or puzzles could stand in the way of this duo. Needing a little bit of help with their this adventure, can you assist this elemental couple through various temples in this game?
So many temples to explore, so many puzzles to solve and so many traps to avoid! Your objective in this game is to complete each level by reaching the end. This may sound easy at first, but each level is filled with various traps and other dangers that could kill your characters. To start the game, click on the play button on the main menu and then select a level. Just like the other titles of this series, you can play this game either solo by controlling both characters, or invite a friend over and help each other. To control Fireboy, you can use the arrow keys, and for Watergirl, use the WASD keys. Fireboy can walk through lava pools but dies when he touches water. The same mechanic applies for Watergirl too, so keep her away from fire! Each character can collect gems of their own element, so grab them dor extra points. Can you unravel the mysteries of these temples? Enjoy!
Why not check our other games in our collection page of free action games? Have fun playing!
Developer
Azerion developed Fireboy and Watergirl 5: Elements.
Release Date
January 14, 2019
Features
Colorful 2D graphics
Various temples to visit
Multiplayer gameplay option
Intuitive controls
Entertaining and addictive gamplay
Multiple levels with challenging puzzles
Controls
Use the arrow keys to control Fireboy and the WASD keys to control Watergirl.