Play Now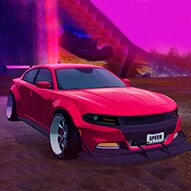 Drive freely in an open field and play soccer with your car with Ultimate Car Arena! Jump through rings of fire, do front or backflips, and wreck your and others' cars! This place is a gigantic playground with an incredible variety of toys built for cars. If you are feeling ready, let's jump into this jungle!
There are infinite stunt combinations, and they add to your score. Drive on walls, jump from heights, drift in open spaces; they all earn you money that you can buy new cars with. Always watch your back for other drivers; you might get attacked at random times. You can also attack others by crashing at them, but this harms your vehicle too. Thankfully there is a car repair in the middle of the map, and you can get an instant fix simply by stopping by. Check out the soccer field next to the repair; there is a giant ball you can move with your car. Steal the ball from other cars and aim at the goal. Climb up to platforms and fall from great heights to create even more chaos! There is no room for consequences; you can always reset and start over!
If you like exploring open worlds with cars, you can check out Gangster Hero Grand Simulator and drive luxurious cars on the streets of the city you run!
Developer
Vitalitygames.com developed Ultimate Car Arena.
Release Date
February 24, 2022
Features
Amazing 3D graphics
Easy to play
Unlockable car options
Open world
Available on mobile devices
Controls
Use "W, A, S, D" to move, shift for nitro, the spacebar for brakes, "R" to reset.