Gangster Hero Grand Simulator
Play Now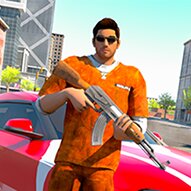 Take dark orders from underground, choose your side, and rule a big city with bright lights with Gangster Hero Grand Simulator. There is no going back once you get inside the mafia. All you can do now is play big and rise to the top. Explore a massive map with tens of missions, earn more with every completed duty, and buy better guns with more damage!
You start by choosing a gangster name for your character and how you look. Buy your first gun, and you are ready to run freely on the streets. Discover the most significant locations and accept orders from dark forces that run the city at night. Steal cars, shoot and rob people. Use your dirty money to buy new clothes, guns, rifles, and vehicles at the shop. Get your damage boost with every new gun, and kill and earn faster. Police cars are not a threat for you, however, you will come across enemy gang members on the street at random times, and they will start attacking you. You should kill them to get rid of them. Shoot enemies, rob civilians, blow up ambulances, and bring chaos to the city!
If you like running around with weapons and committing crimes without consequences, you can check out Murder.Io and kill other players!
Developer
Driving games developed Gangster Hero Grand Simulator.
Release Date
March 4, 2022
Features
Amazing 3D graphics
Open world
Unlockable skin and car options
Various weapon choices
Controls
Use "W, A, S, D" to move, spacebar to jump, "R" to reload, shift to sprint or use nitro, "F" to get into cars, left mouseclick to hit, right mouseclick to aim, "M" for map.