Play Now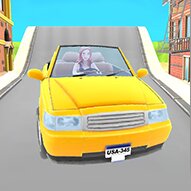 Unlock exclusive skins and unique vehicles to make hilarious combinations and take your place in a seaside race with Uphill Rush 10! Use speed boosts, pull impossible stunts, and make jumps from great heights! Complete challenging races on a parkour track built through the city, and unlock all looks for your character and car!
Twenty challenging city tracks full of dangerous obstacles are waiting for your discovery! Jump on your skateboard or hold on to your unicorn and get ready for the most unexpected turns! Forget about all you know about physics and keep one hand on the nitro boost with your eyes on the road. You will make full spins and pass seas on a golden motorcycle with a crowd cheering for more action in the background. Speed up before jumping off cliffs and driving up hills to stay in balance. Avoid falling on your head and complete levels without any accidents. You earn money for every successfully passed stage. You can use that money to unlock new skins or vehicles. Some items can also be unlocked by watching short ads, so you can skip the effort, and get your hands on a shiny jeep and start your journey classy!
If you like this relaxing road challenge, you can check out Uphill Rush 8 and take the action into the water!
Developer
Agame developed Uphill Rush 10.
Release Date
May 3, 2022
Features
Colorful 2D graphics
Unlockable content
20 unique tracks
Available on mobile devices
Controls
You can use the arrow keys to move and the spacebar for acceleration.