US Army Vehicle Transporter Truck
Play Now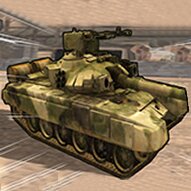 Load heavy battle vehicles on a truck with US Army Vehicle Transporter Truck. This is precision work that requires your full focus, and there is no chance for mistakes! Move slowly, watch where you are going, and park your vehicle where it is needed without any accidents.
We always see tanks on battlegrounds, but have you ever thought about how they are transported to these areas? Now you can learn firsthand! Your job is to control tanks and jeeps and park them on the shown spots. After loading the truck, you take the army vehicle and move to the targeted location through bumpy roads and narrow tracks between lakes. Try not to get distracted by the crystal clear waters and blue skies; focus on the road, and reach the destination before the time runs out. You will be asked to unload the truck and park the tanks and jeeps upon reaching the area. Missions will keep coming around the same area but in different combinations and increasing challenges. Just keep your eyes on the road and follow the directions, try not to get lost, and stay away from water. Explore the desert roads in the given time and enjoy the view throughout your missions.
If you are interested in war machines, you can check out Tank Off and attack other tank drivers in a realistic 3D world!
Developer
CarGames.Com developed US Army Vehicle Transporter Truck.
Release Date
March 2, 2022
Features
Colorful 3D graphics
Gorgeous scenery
Wide and detailed map
Realistic vehicle design
Available on mobile devices
Controls
Use "W, A, S, D" to move.