Play Now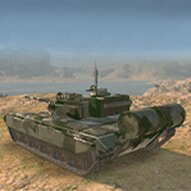 In Tank Off, tread lightly. The ground is full of enemies who will stop at nothing to tear you to pieces. Eliminate all the threats and show them that you should be feared. Are you ready to challenge players from all over the world and test your might? This will be a blast!
Be quiet and quick. There is no telling who is waiting for you ahead. Maybe an ally, or an enemy! In this .io game, you will fight as a team and try to defeat the enemy team. First, choose one of the tanks and upgrade the stats to stand a better chance against the coming firestorm. Choose a room and get ready to join the battle. You need to capture the enemy team's flag and kill as many of them as you can before the timer ends. The timer appears on the top of the screen. To win, always be on your guard, follow the arrows, and keep close to your allies. You are all in this together and they may help you survive. Good luck!
There is always a new war to fight. Play CS Online and prove that you are as good with a gun as you are with a tank. Have fun!
Developer
Martian Games developed Tank Off.
Release Date
June 28, 2021
Features
5 unlockable tanks
Upgrades to buy
Online multiplayer gameplay
Different maps to play at
Controls
You can use the WASD keys, or arrow keys to control the tank. Left-click to shoot. Right-click to aim. Space bar to jump. Shift to use turbo. M to mute. Enter to chat.