Play Now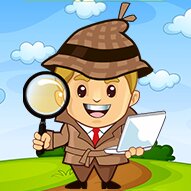 In Vandan the Detective, get ready to show off your super detective skills! Vandan needs your help to realize his childhood dreams by winning the school competition. The kids are racing with each other, but the only one can get the detective trophy. That is exactly why you are here! Can you help him find the hidden objects in each room and complete his goals now?
A new life is starting for you today! From this very moment, you will become a real detective who solves any kind of mystery! All you need to start your new life is your mouse. In this fun hidden objects game, what you are going to do is to find the objects and complete the levels. Vandan is competing with his friends at school for the detective competition. Help him to be the winner. When you enter the game, you will see the rooms that you should visit. In each one, there are certain objects that you should find. Under these objects, you can see how many of them you should be searching for. When you complete a level, you can click on the arrow and move on to the following one. Don't forget to check your remaining time during the adventure! If you run out of time, the game is over! Let's see now how much of a good detective you would make!
Be sure to check our collection of free and online kids games by clicking here to browse more fun titles like this game.
Developer
Lof Games developed this game.
Release Date
June 29, 2021
Features
2D colorful graphics
5 rooms to visit
Cute characters and a backstory
Fun and engaging gameplay
Controls
You can use your mouse or finger to play this game.