Play Now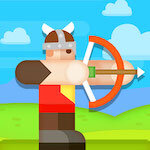 In Viking Wars 3, it's time to see who is the strongest warrior. Grab your sword or bow, wear your helmet, and get ready to face your opponent. Through persistent attacks and fast moves, can you prove your worth in the battlefield?
Feeling battle-ready? Good! You can play this game as solo against the CPU, or your friend by sharing the same keyboard. The objective of this game is to win each encounter by gaining 5 points before your opponent. Do you hear the war drums? You better start! Pick either 1 player or 2 player option from the main menu. When the fight starts, move between the platforms to avoid the attacks of your enemy, and try to push them off the ledge. Your starting weapon is a sword. Sometimes, a bow and arrow icon will appear. Collect it to switch to that weapon, and you can attack from a safe distance. In solo gameplay, your score is located in the top left corner of the screen. In 2 player mode, player 1 can see their score in the top left corner while player 2's score is located in the top right corner. Good luck, warrior!
If you enjoy playing with a friend, then be sure to check our other wildly popular and fun game, Tug the Table! Have fun playing!
Developer
RHM Interactive developed Viking Wars 3.
Release Date
March 20, 2019
Features
Two-person multiplayer gameplay
Nice and colorful 2D graphics
Different weapons to use
Intuitive controls
Controls
Player 1 can move around their character with the WASD keys and attack with the G key. Player 2 can use the arrow keys to move their character around and attack with the K key.