Play Now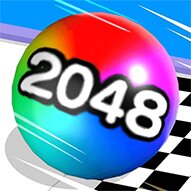 Roll down the track and hit other balls to make it to the furthest spot with Ball 2048! Combine your logic skills with quick reflexes, and keep your ball safe till the end! Double your numbers, change colors with each contact, and test your abilities in both math and skill challenges!
Get ready for this unique version of the famous numbers game! This time, you merge the same-numbered balls on an obstacle course, trying to make it to the finish line. To do that, you must keep the ball safe, of course. The spikes on the track are deadly for your ball. They split you into half, and if you are at the lowest number, that being two, you fail the level. Avoid losing process as much as possible and focus on hitting the same-numbered balls so that you can double your number. You must be of a certain size to cross some pipe bridges. Stay ready for these challenges you might come across on your way. After the finish line, the ball jumps into the hole built for its number. You can watch a short ad to skip to a higher number and complete that level with more stars. Do not forget to check out the game shop and try the character skins!
If you like this colorful challenge, you can check out our other Running Games to find more games like this!
Developer
DDSH developed Ball 2048!
Release Date
September 1, 2022
Features
Nice 3D graphics
Simple control mechanics
Improving math and agility skills
Unlockable skins
Available on mobile devices
Controls
Click or tap to hold the ball and drag it to move it.