Play Now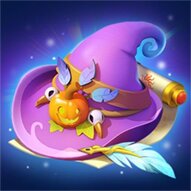 Build a school for children with magical powers, raise the next generation of witches and wizards, and continue the traditions of mystical folks with Wizard School! Teach young brains the trickiest potion recipes, give them a safe environment, and upgrade your school's qualities to become the best magic school on earth!
You have a lot to do before we get to the famous wise words about the importance of education! You need teachers and workers to lead kids and at least four walls to keep these people in! Fortunately, we already have a small building and staff, but there is still a lot to do! Train the goblin butler to accept more kids with special powers, convert them into proper wizards, and start the classes! Follow the assistant Ginny's tips and improve the classroom conditions. Get approved by the principal wizard and provide more seats for more students. Get paid for your hard work and expand the castle boundaries by adding more classrooms and upgrading them. Grow your magical army without losing time and ready your wands before evil strikes! Keep your shields up against sudden invasions and prove your power in the eternal battle between good and bad!
If you like this detailed building simulation, you can check out Shopping Mall Tycoon and join mortals to keep building!
Developer
Yizhiyuan Network Technology Co., Ltd. Developed Wizard School.
Release Date
June 21, 2022
Features
Colorful 2D graphics
Cute character designs
Improvable stats
Increasing fun and addictive gameplay
Complex mechanics
Available on mobile devices
Controls
You can use your mouse to play this game.