Play Now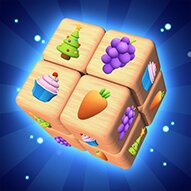 Discover new dimensions of matching puzzles with Zen Cube 3D! Find the identical cubes in 3D structures, rotate the objects to find their matches, and use your slots carefully to complete the puzzle before the time runs out! Let's dive deeper into this mixture of futuristic and traditional puzzle games!
Welcome to a brain workout that keeps gifts raining at every new level! Completing stages fills your reward bar, and filling it completely returns as unlocked sets of images that you will come across in the next levels! Stop wasting time and start your first match! You can hold the structure by clicking, and slide to rotate it. This way, you can get a clear view of each image visible to the outside. There are at least three copies of each image, and your mission is to group them in threes to take them out of the picture. To do that, you can click on a cube and take it to one of the seven slots below. You must use these spaces carefully not to run out of space. Complete levels to unlock new features and sets. Do not refrain from starting again when you get stuck. Good luck!
If you like this unique puzzle, you can check out Match Tile 3D and find identical objects in a random pile!
Developer
Albayoo developed Zen Cube 3D.
Release Date
July 26, 2022
Features
Unique 3D structures
Colorful graphics
Simple controls
Increasing puzzle-solving skills
Available on mobile devices
Controls
You can use your mouse to play this game.