Play Now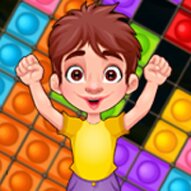 In 1010 Jungle Blocks, you need to pick and drop the set of blocks on the board! So, get ready to jump into a colorful world of blocks! This game is just here to add color to your day! Let's jump into the game and play with some colorful eggs! Have fun!
Welcome to this amazing puzzle experience where you'll train your brain with colorful blocks! To play, all you need is a mouse or touch controls. During your time here, you can clear your thoughts and rest. You'll fill the rows by placing the blocks in the correct order. Clusters can be seen on the left side of the game screen. Drag one to the board by clicking and dragging it. Although the rules are similar to those of Tetris, there are some differences. You will select the set of blocks and place them on the board. If a horizontal or vertical line of 10 blocks is formed after dropping the set, the blocks will be removed from the board. The more blocks you remove at once, the higher score you will gain! The blocks will be removed once a row has been entirely filled. The score and the timetable are displayed on the right side of the game screen. Track your scoring based on your moves. You can set a time limit to further test yourself! The game ends when there is no suitable place left for the given block clusters.
If you want to play more puzzle games, and try another one similar to 1010 Jungle Blocks, then be sure to check 1010 Easter Tetriz, too.
Developer
Lof Games developed 1010 Jungle Blocks.
Release Date
August 9, 2021
Features
2D colorful graphics
Achievements to check
Simple controls
Fun and addictive gameplay
Controls
You can use your mouse or touch controls to play this game.