2 Player Battle Car Racing
Play Now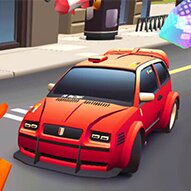 2 Player Battle Car Racing offers its players a matchless racing experience! The unique car designs, surprise attacks, boosters, and challenging racetracks really have it all! All you have to do is decide who you want to compete with and ready yourself for the incoming action!
Before diving into a 3D world of races, you can decide if you want to invite a friend or stand alone against bots. Whichever you choose, you will be facing three challenging competitors in narrow streets full of surprises. The game takes you to the garage before the races so that you can check out the car models and designs and set a goal for yourself. There are five available stages, but you must pass races to move on to the next track. The narrow streets do not give you much freedom, and you must stay in the lane to collect gold and boosters, but using shortcuts once in a while does not hurt. Stay away from buildings and avoid hitting trees not to get stuck. Pick up boosters and use them on your enemies to surprise them! If something goes wrong, you can always reset your car, but keep in mind that it comes with a speed penalty. Good luck!
If you like this 3D racing challenge, you can check out Monster Truck 3D Winter and move on to new climates!
Developer
Vitalitygames.com developed 2 Player Battle Car Racing.
Release Date
June 1, 2022
Features
Nice 3D graphics
5 challenging racetracks
1P and 2P options
10 exclusively designed cars
Available on mobile devices
Controls
Player 1 can use the arrow keys to move, and the spacebar to use boosters, while Player 2 can use "E, S, D, F" to move, and shift to use boosters.