Play Now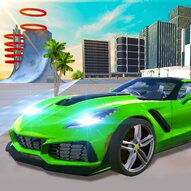 In Mega City Missions, be ready to dust off the city with your amazing car! The streets are waiting for the best racer ever! You can first test your car and the area before jumping into the races or you can drive alone to discover the city! Are you ready for driving the most amazing cars? Have fun and good luck!
A fantastic car game is about to begin in a massive city with massive buildings, broad highways, and a huge stunt arena! In this amazing game, there are two game modes waiting for you! You can choose to play in free drive mode to test your driving skills and discover the track or you can choose to race against the other drivers in the racing mode! You will be led to a specific arena if you are playing in two-player mode. If you're racing against the computer, there are five distinct regions to choose from. There will be also some missions to complete in career game mode, transportation missions, car races, driving skills, and bomb detonation missions are among the missions available, some of which take place in the stunt arena and others in the city. You may visit the garage with your earnings to unlock new vehicles and skins for them. Good luck and have a good time!
Do you want to play more games like this one? If so, take the different challenges in our collection of free and online racing games.
Developer
RHM Interactive developed Mega City Missions.
Release Date
July 14, 2021
Features
3D colorful graphics
Free driving and racing modes to play
1-player and 2-player modes to choose
Fun and addictive gameplay
Controls
Player 1: Move: "W,A,S,D" NOS: "F" Look back: "T" Restart car: "R" Player 2: Move: "ARROW KEYS" NOS: "K" Look back: "L" Restart car: "O"