Play Now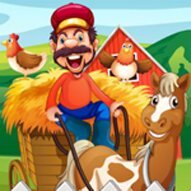 In Farm Dice Race, let's see if you can outpace your BFF! If you trust your luck good enough, you are invited to this snakes and ladders-themed 2P game! Invite a friend or a sibling over to see who the winner will be tonight. If you prefer playing against the AI, you can challenge the CPU too! Roll the dices, move forward as the number, and push the limits of your luck. If you are ready, let's see what else will be waiting for you in this amazing board game!
Feeling lucky today? Let's test is if you have the guts to do so! You can go home victorious, or you can be beaten by your best friend today. If you are asking "how?" let us explain it to you! In this amazing 2 player game, the objective is to climb to the number 81, the top of the game screen, to finish the game. On the left top, you can see the characters of you and your opponent with their lives. Roll the dice by clicking or tapping on them. Then, your character will move as the number. If you stop on an arrow, you will directly go to the point it shows. If you encounter the bombs, you lose 1 life. You can restore your lives if you stop on a heart. Break the leg now!
Be sure to check our collection of free and online 2 Player games by clicking here to defeat your friends or siblings in other exciting adventures like this one.
Developer
Lof Games developed Farm Dice Race.
Release Date
August 10, 2021
Features
2D colorful graphics
1P and 2P options
Simple controls
Fun and engaging gameplay
Controls
You can use your mouse or touch controls to play this game.