Play Now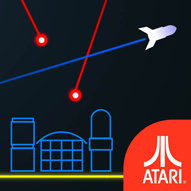 In Atari Missile Command, your hand-eye coordination skills are needed greatly to save the city from the enemy attacks. Featuring colorful 2D graphics and entertaining gameplay, this classic arcade game brings all the fun and challenge that you need! Are you ready to challenge yourself and see if you can save these cities?
It all started with the coming of the enemy planes. Everything that happened from that moment on only brought death and misery to us all. Our enemy was here to rain down destruction upon us all, but we made a vow to each other. We will not go down without putting up a fight. Are you ready to join us, put your faith in yourself and us and defend these cities until your last breath? In this game, your objective is to defend the six cities from the endless wave of ballistic missiles and earn a high score. To destroy the enemy artillery, you need to click on them, but this isn't going to be as easy as it sounds. Timing is really important and if you miss the shots, they will bombard the cities until there's nothing left of it. You should also destroy the planes that drop missiles. While doing all this, dont forget to check how many missiles you have left by looking at the bottom of the screen. You'll earn extra points for each remaining city and missiles. Good luck!
If you want to play another arcade game with the same nice graphics, you can check out Atari Centipede. Enjoy!
Developer
Atari developed Atari Missile Command.
Release Date
February 10, 2021
Features
Intuitive controls
Many multipliers and rewards to earn
City defense game
Colorful 2D graphics
Controls
You can use your mouse to play this game.