Among Impostor Mahjong Connect
Play Now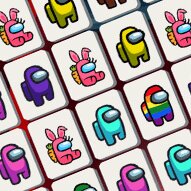 Among Impostor Mahjong Connect invites you to have fun with these popular game characters! How many levels can you complete by linking the same Among Us Impostor characters? You'll have a limited time. So, you'd better get into this amazing adventure and find it out! If you are ready now, let's click on the play button and get the game started!
Which of these cute little characters is your favorite? Can you differentiate your favorite one from the others? As a tip, you'd better observe the features of these little guys before jumping into the game right away. You will have no time to make any mistakes. In this amazing link-2 game, your objective is to link 2 of the same characters and clear the board by doing so. From the top of the game screen, you can track how many seconds you have left. Also, you can pause the game, shuffle the tiles, and use hints from the buttons on that table. As you proceed in the game, the number of tiles will increase as well. Don't worry, though! You'll also have more seconds to clear out the whole board. Use your mouse or the touch controls to play. Don't forget that there should be no other tile blocking the 2 same tiles. Good luck and have fun playing!
Looking for another amazing lin-2 game with different characters this time? If we are right, then be sure to check Kris Mahjong Animals.
Developer
FrivClub developed Among Impostor Mahjong Connect.
Release Date
August 11, 2021
Features
2D colorful graphics
Several levels to complete
Hints and shuffle buttons
Fun and addictive gameplay
Controls
You can use your mouse or the touch controls to play this game.