Play Now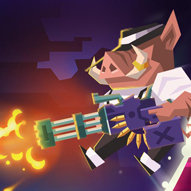 In Bullet League Robogeddon, it's time to stop these robots! Take control of the boar character and grab your weapons. With various obstacles on your way and robots all over the place, can you survive through this game and be the last standing person on the map?
Robots might have sturdy metallic bodies, but you have powerful weapons! The objective of this addictive and action-packed game is to kill all the enemies on the map and become the last person alive! Even their perfect AI won't be enough to save these robots from your wrath! Use the WASD keys to move around the level, and try to find different weapons to extend your arsenal. Need to get higher but can't reach the platform? Where are the boxes when you need them? Stand by pink rocks to harvest them, and you can place them anywhere you want! Use the numeric keys to change between different weapons, but keep your eyes on your ammo count. You will win the game when you eliminate all of your enemies. Try your best to avoid enemy fire, as you're not invincible! Have fun playing and show those robots that they've picked the wrong place to run amok!
Need more action in your life? Then go ahead and visit our collection right away! Click here for more titles like this! Have fun playing!
Developer
Kiloo developed Bullet League Robogeddon.
Release Date
December 3, 2020
Features
Colorful 2D graphics
Different weapons to collect and use
Intuitive controls
Entertaining gameplay
Controls
Use the WASD keys to move around the map. Use the 1, 2, 3, 4, and 5 keys to change between different inventory items. Use your mouse to aim and shoot.