Play Now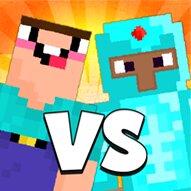 Load up your rifles and team up to bring enemy armies and bosses down with Arena: Noob vs Pro! Gather your team, recruit your friends to your side, and get up on the battlefield! Get money from each battle, upgrade your stats, buy new weapons, and unlock new skins for your team and enemy army!
Noob got himself in trouble again, but this time, it has nothing to do with his silliness and misfortune. He is battling against the other versions of himself, which means you will be facing other players. This is a war of rank, but as the enemies get tougher, you will also get more difficult to kill. Join your first match and start shooting your enemies! Avoid bullets to keep your health bar full, and do not be afraid to take cover when you need it. Stay out of combat to regenerate health and return with full stats. You get to the character stats window after the match. Upgrade whatever stats you want to improve to get your character stronger. You can always get to this window from the "Specifications" menu. You can also unlock new weapons from the weapons shop and upgrade your damage. Don't forget to check out the skins and treasure chests!
If you like the adventures of Noob and Pro, you can check out Noob Skyblock and craft to survive in a 2D block world!
Developer
Noob vs Pro team developed Arena: Noob vs Pro.
Release Date
July 13, 2022
Features
Colorful 2D graphics
Character upgrades
Unlockable weapons
Treasure chests
Multiplayer deathmatches
Available on mobile devices
Controls
You can use your mouse to play this game.