Play Now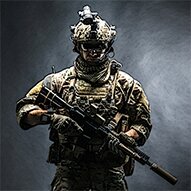 Choose your side in the war and put your life on the line for your team with ArmedForces.io! Earn money for every second you stay in the battle, buy and upgrade guns, unlock and equip new gear, and return to the arena even stronger than before!
This world offers you online and offline options for any game scenario possible! Earn from the matches, upgrade your character, practice offline against bots, and prepare for the heat you will face online! Choose the bot difficulty and the region server, find a name for your soldier, and find the best graphics and controls settings for your game! You can see your savings on the top right. There are two different currency units that you can use to buy different features: cash and gold. You can use gold to buy crates and cash to upgrade your equipment. The crates get you new weapons, while the upgrades add new features to your gear. Choose between the five game modes with different rules and stay offline, or go online to face real players. Each completed game earns you money but leaving before the game end leaves you with no rewards, so stick with your team till the end!
If you like this 3D first-person shooter, you can check out our Shooting Games to find more games like this.
Developer
JulGames developed ArmedForces.io.
Release Date
June 15, 2022
Features
Nice 3D graphics
Online and offline options
6 game modes
Unlockable and upgradable gear
Detailed settings
Controls
"W, A, S, D" to move, mouse to shoot, space to slide, shift to run, "E, F" to interact, "G" to throw explosives, "H" to use med kit, "T" to chat, "C" to crouch, "N" for the scoreboard, and Esc for the menu.