Play Now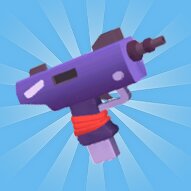 If there is no such thing as 'too many guns' for you, then Gun Fest is where you belong. Get ready for the most crowded gun collection you will ever have! Starting with the gun you are given; you make more and more guns by adding up and multiplying what you have. All those calculation skills you thought were boring are what can save you now.
You start the run with one gun and in seconds you end up with tens, maybe hundreds. The secret is in the art of quick calculation and precise reflexes. You can get help from the colors whenever you get stuck, but there will be times that you get two blue or red doors at the same time, and you should know which one would be more logical for the sake of your gun population. Orange doors work completely randomly, so it is all about risking there. You earn more money with every criminal you shoot and every heist car you blow up. You can check out the guns at the shop and buy them as new skins with that money you get. Also, you can double the money you earn from levels by watching a shot ad at the end of every level.
If you like this game, you can play more shooting games by clicking here.
Developer
bestgames.com developed Gun Fest.
Release Date
February 4, 2022
Features
Improving logic skills
Cute character design
Many skins to unlock
Can be played on mobile devices
Controls
You can use your mouse to play this game.