Play Now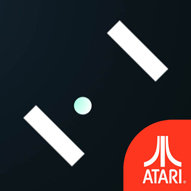 Atari Pong brings the ultimate entertainment right through to your screens! This adventure is a table tennis-themed arcade game which we are sure that you have already tried before. It is being played even in the game center arcades as air hockey but no need to go out to feel the thrill of this game anymore! If you are ready, let's dive into this online and free Atari game in no time!
Welcome to one of the most preferred classic Atari games that were ever made! Featuring its two-dimensional black and white graphics and simple access, it is quite successful to bring retro vibes to our screens. You are about to challenge the CPU and prove your eye and hand coordination skills. Your objective is to reach the eleven points by hitting the bouncing ball with your paddle. Once the ball gets through your opponent's field and reaches the end of the screen, you win. It may sound easy, but the ball moves so smoothly that it can be really hard to track it. You can choose at which side of the table you want to be from the main menu. There is no time limit to catch. The player who makes the goal gets the chance to start. You can restart the game as many times as you want. Since you got the rules now, may the best player wins the round!
Be sure to check our collection of free and online arcade games by clicking here to browse more classic Atari titles like this game.
Developer
Atari developed this game.
Release Date
February 10, 2021
Features
2D black and white retro graphics
Table side options to choose
Table-tennis themed arcade game
Fun and engaging
Controls
You can use your mouse to play this game.