Play Now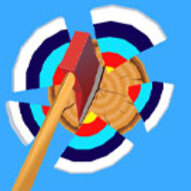 Can you swing around your ax professionally in Axe Master? You are a wild person with crazy ax-throwing skills. Now, you have the chance to freely throw around your ax. Of course, to make some profit out of your skills, you must aim at some targets. Are you ready to see if you can hit the bulls-eye?
In this game, you can freely throw your ax around and relax. Still, to pass the levels and get more points you should aim at the targets. The addictive aspect of the game comes from the throwing motion of the ax at the targets, anyways. Because sometimes it may be hard to get the right sports at the targets, it becomes competitive and addictive. You should click on the left-click of your mouse at the right time to get the targets. Sometimes, you will see some coins in the middle of the targets. Try to collect them by hitting them with your ax. Apart from collecting the coins, you are also expected to crack the targets by throwing your axes enough times at the targets. Some targets crack with one hit, some do with multiple hits. Either way, you must be careful about your axes because you have a limited number of axes. Also, keep in mind that some targets will be moving, while some black ones will cause you to fail the level. When you are out of axes, you will be eliminated. So, act accordingly, try to aim well, and pass all the levels!
If you enjoyed playing Axe Master, you should check out our collection of free and online skill games.
Developer
BPTop developed Axe Master.
Release Date
September 28, 2021
Features
2D colorful graphics
Need for sudden player control
Addictive gameplay
Intuitive controls
Axes to unlock
Controls
You can use the left-click to throw the ax.