Play Now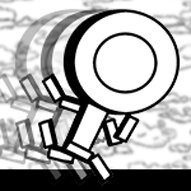 In OvO, beat the environment and become the winner! You'll have an opponent to be outpaced, but you must survive to do that. Are you looking for a challenging platform-based skill game? You are at the correct place! Avoid the obstacles and reach the flag before your opponent. Complete the levels one by one and collect all the coins. How long will you be able to survive in this fast-paced game? Click on the play button and check it out!
Are you ready to push the limits of your skills? Featuring black and white gameplay theme and various obstacles, this game will lock you in front of the screen for hours of fun. In this fun platform-based skill game, the objective is to complete the levels as quickly as possible by reaching the flags. You are racing against an opponent but what you'll do first is to beat the environment. Control your character by using the keyboard arrows. You can read the instructions or follow the trail that is shown at the beginning of each level. There are two game modes that you can try. First, try the normal mode and prepare yourself for the advanced mode. In both modes, what you'll do is to dodge the obstacles like deadly spikes, fire rockets, and moving traps. Don't forget to collect all the coins to unlock new skins and backgrounds. Good luck and have fun playing!
Looking for more thrill? Then, you should check our collection of free and online skill games to browse more fun titles like this game.
Developer
Dedra developed OvO.
Release Date
August 19, 2021
Features
2D black and white graphics
54 challenging levels to complete
Achievements and in-game shop to visit
Fun and addictive gameplay
Controls
Use the keyboard arrow to play. You can change the controls from settings.