Play Now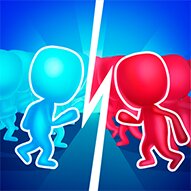 Flex your counting and crowd management skills with Count Master! Recruit people by passing through magical portals, attack enemy armies, and destroy giant bosses with the power of numbers! Attack and conquer castles with your troops and finish levels with extreme stunts to multiply your score! Do you have the math skills to rule the world of numbers?
In this magical world, it's all about which portals you step through. You must pick a side and rise or go down with it. The ultimate goal of everyone is to get as many people as one can to destroy enemy armies, pass through traps and obstacles with the least power loss, and take over new lands and castles when they can! You have limited time before choosing the right door, so calculate carefully and quickly before your next move. Always aim for the maximum gain to stay on the advantaged side of the battle. Move right and left to avoid obstacles and penalties, and keep your number at the top. Earn gold from levels and unlock random skins with your coins. Improve your stats between levels and spin the lucky wheel to change your colors to conquer with style!
If you like playing with numbers and using the power of math to defeat your enemies, you can check out Count Master 3D and keep ruling another world with your skills!
Developer
2Play developed Count Master.
Release Date
May 2, 2022
Features
Colorful 3D graphics
Addictive gameplay
Improving stats
Unlockable skins
Available on mobile devices
Controls
You can use your mouse to play this game.