Play Now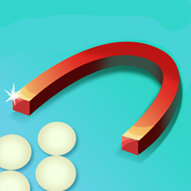 With Ball Picker 3D, it is time to scrap some balls with your giant scrapper! This fun and addictive skill game can make you go bananas! But do not worry. With the right direction and good focusing, no ball can run away from you. Now, get ready for the endless challenges with limitless entertaining, and let's see how good you are at working with patience while collecting the balls!
If you are one of the people who like challenging themselves, you will have lots of fun thanks to this skill game. The main objective of this game is to collect as many balls as possible with your scrapper and slide them into the slot. For each slot, the target number of the balls to be collected changes. Since you will not be able to see the target number before sliding the balls into the slot, you should collect as many as you can. If the number of the collected ones cannot meet the target, you fail. And if you fail, you have to restart from the beginning of the current level. You can check your progress at the top of the screen. You can buy new skins from the in-game shop with your earnings. Good luck and have fun!
Be sure to check our collection of free and online skill games by clicking here to browse more challenging titles full of fun like this game.
Developer
Play.Works developed Ball Picker 3D.
Release Date
March 31, 2020
Features
Colorful 3D graphics
In-game shop to buy new skins
Entertaining and addictive gameplay
Intuitive controls
Controls
You can use your mouse to play this game.