Play Now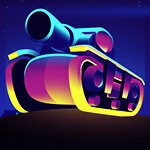 In Blast Away Ball Drop, get ready to take control of a powerful tank, but don't expect enemy soldiers to fight against! You'll encounter one of the roundest and bouncy opponents in this game, so be prepared. Can you achieve a high score by destroying everything on your way?
What's that noise? Sounds like giant balls bouncing around! Your objective in this game is to pass each level by destroying balls with your tank without getting killed. You can play the game with your mouse, so click and drag your cursor over the screen to start! This is a fast-paced game, so you should always be on alert. Your tank fires when you drag your mouse left and right on the screen. The balls have HP numbers on them, and you need to shot them that many times to clear them from the screen. Destroyed balls drop coins. Collect these so you can spend them at the in-game shop to upgrade the stats of your tank. You can also customize the look of your tank and the background too! Completing daily missions also give you coins, so be sure to check them. Have fun playing!
When you're done, don't forget to check our collection page of free action games by clicking here. Enjoy!
Developer
Huz developed Blast Away Ball Drop.
Release Date
September 24, 2019
Features
Colorful 2D graphics
4 different stats that you can upgrade
Can customize the look of your tank
Daily missions
Intuitive controls
Entertaining and addictive gameplay
Controls
You can use your mouse to play this game.