Play Now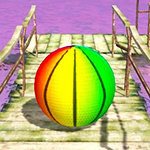 In Island Survival 3D, grab your beach ball and start to enjoy this tropical forest, which makes one feel like we are in the middle of the summer! Featuring its warm climate and simple mind puzzling, you will enjoy playing this game even at home sitting on your chair! If you are patient enough to move real slow, let's step into this fantasy world!
Roll the beach ball and complete challenging platforms. Your objective here is to finish the challenging and relaxing path without dropping the ball. To control your ball and move to the following levels require working with details. Tiny little misdirecting can cause your ball to fall into the deep water. Use the keyboard arrows or WASD keys to control the ball through various paths with different challenges. By swiping the screen with your mouse, you can change your camera direction. You have 60 mini levels to complete. If the ball falls into the water, you fail and need to restart the current level. Try to collect every diamond you see on your way to the end. With your earnings, you can unlock other skins for your ball and add more fun to the game. Good luck and have fun!
If you want to try another game similar to this one, then be sure to check Deep Sea Life Escape by clicking here.
Developer
No Outlinks developed Island Survival 3D.
Release Date
April 8, 2020
Features
Island simulation
60 adventures to go
Different skins to unlock from the in-game shop
Entertaining and addictive gameplay
Controls
Use the arrow keys or WASD keys to move the ball around. Swipe your mouse to rotate the camera.