Play Now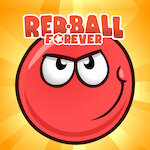 In Red Ball Forever, take control of an energetic red ball and take him through different and challenging levels! Balls should stay safe and secure in their homes due to their fragile nature, but the main character of this game doesn't care! He's adventurous and loves to spend time outside. Can you help him survive the traps and obstacles?
Having no corners makes you roll around, but who knows what lies on your way? A single nail and you're done. Looks like our character doesn't have such concerns but it's best to help him. The main objective of this game is to complete each level by reaching the red flag in the end. This may sound like a simple task but from spikes to other sharp items, your way is filled with various traps! To start, click on the play button on the main menu. The game features 15 different levels, and you can unlock them one by one as you play. You start a level with 3 lives and lose a point each time you touch an enemy or a trap. Running out of lives ends the level and you have to start over. Collect stars for extra points and enjoy!
Join this adventurous ball in our other title, Red Ball 4! Have fun playing!
Developer
kiz10 developed Red Ball Forever.
Release Date
June 20, 2019
Features
Colorful 2D graphics
Intuitive controls
Addicting and entertaining gameplay
15 different levels to unlock and play
5 different character skins to choose
Controls
You can use the arrow keys or the WASD keys to control the red ball.