Play Now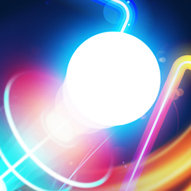 With Hop Ballz 3D, get ready to challenge yourself by controlling your neon bouncing ball! Here is a perfect challenge for you to test your eye coordination skills. Just with simple control of your mouse, you will not believe how much score you can make! Hop your bright white ball through the appearing platforms and enjoy an endless adventure of collecting stars. Take your seat now, and let's start the game!
In this fun skill game, a non-stop neon adventure is waiting for you. The biggest challenge of the game is you trying to break your own score! You can play this game by simply controlling your mouse or finger to move the bouncing ball around. But to do that, you need to have good hand and eye coordination. When the game begins, the ball automatically starts to hop forward. Your objective is to control the ball in the right direction where the neon platforms appear. If you hit on the white circle situated on each platform with the ball, you gain double points. Try to collect as many stars as possible along the way. From the in-game shop, you can unlock other skin options for your ball with the collected stars. Good luck and have fun!
If you want to try another game to test your coordination skills and challenge yourself, then be sure to check Frisbee Forever 2 by clicking here.
Developer
kiz10 & TapTap developed Hop Ballz 3D.
Release Date
March 5, 2020
Features
3D neon graphics
Intuitive controls
Endless hopping adventure
In-game shop to unlock other skins
Controls
You can play this game with your mouse.