Play Now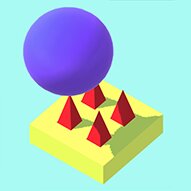 In Bouncy Go, it's time to start bouncing this tiny egg around! It, like every other egg, is readily cracked. That is why you must be extra careful on the road! You'll come across a variety of obstacles and traps. By moving quickly, you can avoid them. In this entertaining game, timing is everything. Let's see how many points you can get by finishing the levels right now! Have fun!
You're going to enter a maze where the eggs are being chased mercilessly. Regardless of what happens, you must save your egg. Fortunately, the eggs may also bounce here! Your objective in this fantastic 3D game is to finish each level by reaching the final gate. To control the egg, use your mouse or touch controls. To make it bounce one square, click, or press once. Continue clicking until the level is completed. But watch out for the big obstacles! They may break your egg before you even realize it! Take care where you step. Collect the little gems to boost your score. From the top of the game screen, you can see your current and best scores. The quicker you get to the gate, the more points you'll get. You may also expect a lot of applause for your achievement! Now, good luck, and have a good time playing!
Do you want to play more games like this one? If so, take the different challenges in our collection of free and online 3D games.
Developer
Sakura Games developed Bouncy Go.
Release Date
May 26, 2021
Features
3D colorful graphics
Several levels to complete
Obstacles and traps to avoid
Fun and engaging gameplay
Controls
You can use your mouse or touch controls to play this game.