Play Now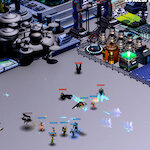 In Wars of Worlds prepare yourself for the battle of a lifetime! The ongoing battle between the past and the future is at your doorstep now! You cannot fight this battle alone so you need to pick a side. Which one will you choose? The past or the future?
Do you hear that, mortal? It's the sound of your enemies coming for you! Will you allow them to exist or will you end their insignificant existence? To start the battle, you must first choose a side! Choose the past and stand with Irma the magician and other fantasy creatures or choose the future and stand with Damien the cyborg scientist and cyborgs. It's your decision. But make it fast or die in the middle! After you choose a base, your objective is to grow your base and army so you can win the war and make your enemies meet their doom. Train your soldiers and use the resource that is given to you to upgrade them or buy new soldiers. Use gold to buy new buildings and defend your base from invaders. Fight your enemies to win gems. Use your mouse to choose between options and lead your army! With you leading their forces to battle, they're sure to win! Get ready then! Today, your enemies will meet their ancestors!
Can't get enough of battle? Then be sure to check our other title Guardians vs Zombies and protect your base!
Developer
Radical Play developed Wars of Worlds.
Release Date
August, 2018.
Features
Online multiplayer gameplay
Colorful graphics
Strategic planning
Different units to choose and lead
Controls
Use your mouse to play this game. Use Q and E or the mouse wheel to zoom in and out.