Battle Within Coronavirus
Play Now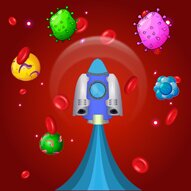 In Battle Within Coronavirus, destroy all the viruses and germs to save a life! You have a super-powerful treatment weapon to use against them. With the new technology, it can be sent to the patient's body. What you are going to do is to control the rocket and shoot these evil viruses. If you can succeed, the victory is yours. Let's see what you can do now!
This virus changed the whole world, everyone's life. It is time to put an end to this craziness. A patient is about to lose their life because of it. You must send your treatment rocket and destroy all the germs and viruses in their body. In this fun shooting game, the objective is to shoot all the organisms and complete the levels. Use your mouse or touch controls to move the rocket. Once you start the game, the craft starts shooting automatically. The organisms are able to fire at you too! Avoid their fire by moving around and destroy them before they destroy you. You will face the boss, the most powerful organism, in the levels that equal to multiples of five. You earn gems per level. Use your earnings to upgrade your rocket stats. Unlock new ones from the in-game shop to add more fun to the game! Have fun!
Hey! In other adventures, we have other heroes who need your help. Don't forget to check our collection of free and online shooting games by clicking here to browse more fun titles like this game.
Developer
Digi Smile limited developed Battle Within Coronavirus.
Release Date
July 1, 2021
Features
2D colorful graphics
Bosses to fight against
Several levels to complete
Entertaining and engaging gameplay
Controls
You can use your mouse or touch controls to play this game.