Play Now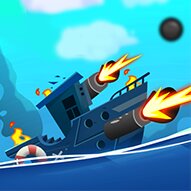 Protect your ship and crew from enemy cannonballs with Battles of Seas! Shoot the enemy before they shoot you, and continue your adventure overseas! Aim at the falling life and shield parachutes to get protection, collect falling coins to get some extra cash, and draw unusual routes for your cannonballs to defeat the enemy fleets!
Improve your aiming skills while protecting your crew with this addictive game! The endless gameplay pushes you to try harder to avoid starting over, increasing your focus and ambition, while the changing arenas keep the battles spicy! You can choose between two game difficulty options, but starting with the easy one and then trying the hard mode would be the wise thing to do here. Click or tap to hold, pull along the screen to aim, and then release to shoot balls. Hit the enemy ship twice to get to the next area. You earn score points and gold coins for each shot you get. Use your coins at the game shop to unlock new ships and cannon attacks. These optional cannonballs grant you up to six balls per shot, increasing your chance against the enemy forces under the raining cannonballs. Try both game modes and see how you do under different conditions!
If you like this fun game with modes and unlockable options, you can check out our other Shooting Games and work further on your aiming skills!
Developer
kiz10.com developed Battles of Seas.
Release Date
September 8, 2022
Features
Colorful 2D graphics
Unlockable ship skins with unique designs
2 difficulty options
Changing backgrounds and arenas
Available on mobile devices
Controls
You can use your mouse or tap to aim and shoot.