Play Now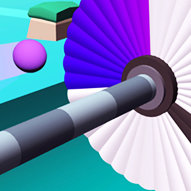 In Shoot Paint, grab your paints! It's time to liven this place up a bit. Featuring fun gameplay mechanics and colorful graphics, this game offers you loads of fun. Do you think you can complete all the stages in this game?
If you enjoy painting and want to prove your skills, we urge you to try this game that will take you through various stages full of obstacles and colors. Your objective is to complete each level and paint the white platforms. To shoot paint, you can click on the screen and hold the left mouse button. In each level, multiple platforms await you. To move on to the next level, you need to paint all of them. But you should be careful. The rotating platforms also have black and grey obstacles on them. When you start shooting paint, try not to paint the black and grey sides. If you do, you'll have to start all over again. The first levels are relatively easier compared to the other levels. As the game progresses, you'll face more platforms and obstacles. This game is the perfect chance to improve your timing skills. Come on then. Let's start playing and wait for the perfect time to start splashing color all over this place.
Well done! You've managed to complete all the stages. Play Color Eggs now and instead of painting platforms, paint Easter eggs to make your day brighter.
Developer
Developed by Conch Game.
Release Date
May 13, 2020.
Features
Various levels to complete
Colorful 2D graphics
Fun and addictive gameplay
Intuitive controls
Controls
You can use your mouse to play this game.