Play Now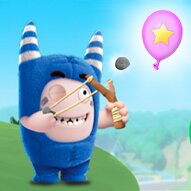 Sharpen your aiming skills in fun and absurd arenas with Oddbods Pogo Popper! Grab your sling and place your best buddy on the goal, and we will blow and release all the balloons! Overcome every obstacle and mind-blowing mechanism to collect all the stars and take them to the finish line!
This friendly realm makes every goal reachable with a little friendship and practice! There are no ammo limits because you use nature's default bullets: stones! Also, no one gets hurt as only balloons get hit in this outdoor event. You can try to shoot as many as you can before finishing the level. Your score is determined by how many balloons you get on each level, and the ultimate stage goal is the balloon with an attached ball. So, shoot the regulars first and save the ball to the last. There is no need to worry about the number of stones you use; just relax, and enjoy the satisfying animations and the bright colors! Hit buttons to activate mechanisms and plan your movements to reach the moving targets. Unlock bonus levels at each completed five levels and add to your score by clicking on as many balloons as possible to climb up on the scoreboard!
If you like the adventures of Oddbods, you can check out Oddbods Food Stacker and start working on your building skills!
Developer
One Animation developed Oddbods Pogo Popper.
Release Date
June 2022
Features
Lovely Oddbods characters
Family-friendly
Improving eye-hand coordination skills
Addictive levels
Available on mobile devices
Controls
You can use your mouse to play this game.