Play Now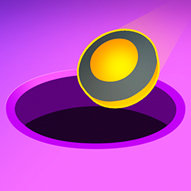 Buca is testing your skills! Buca is a peaceful and addictive game with hundreds of puzzles and beautiful levels to complete. Throw the puck to the hole as you relax and have fun! Are you going to be able to complete all the fantastic levels while sitting in your seat?
Your aim in Buca is to drive the puck in one shot to the hole. It is quite similar to golf but combined with ice hockey. But be careful, there will be some obstacles like pink walls. With creative puzzles, relaxing music, and amazing level design, the game features hundreds of exciting levels that offer both challenges and enjoyment. There are five levels in each stage that you will have three lives for one. Each time you shot without hitting the hole, a life goes. The level will reset when a life point is lost. Your life points renew at the beginning of each stage. You can also change your puck at the following levels. As you move on to the next stage, the stages will have higher difficulty. Before the life points are completely depleted, how many levels will you be able to complete?
If you want to try another skill game similar to Buca, then be sure to check Ragdoll Swing, too.
Developer
Yello Games LTD developed Buca.
Release Date
July 14, 2020
Features
Multiple pucks to choose
100 levels to pass
Arcade game
3D graphics
Controls
You can use your mouse to aim the puck, left click and hold to determine its speed and left click to make it slide.