Play Now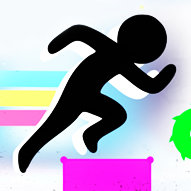 In Stickman Rush, only the brave one can endure this trial. Only those who have an appetite for adventure can survive through the hard levels of this game. Are you ready then? Ready to run like hell? Ready to run like the devil's behind you?
Our character may seem small and all but he has the heart of a lion and nothing can stop him on the way to glory. So you have only one choice: Accompany him and make sure he doesn't end up dead. Your objective is to complete all the levels in this game by lighting up the platforms. It may sound easy but there are many obstacles that you need to pass at each level. To avoid the spikes, use the up arrow key to jump and the down arrow key to slide. Timing is very important to survive here. You have to jump and slide at the right time, take the time to wait the moving spikes, and so on. Try to collect all 3 stars in each level. Other than this, there's also an endless mode to play where you'll try to get the highest score possible. Enjoy the many challenges of this game!
Well done, stranger! You've proved useful here. So we thought we could use your help in other games as well. Check out our collection of online skill games to browse titles like this one. Have fun!
Developer
Developed by kiz10 & TapTap.
Release Date
January 17, 2020
Features
Different game modes to try
Intuitive controls
Many levels to complete
Fun gameplay
Controls
You can use the up arrow key to jump and down arrow key to slide.