Military Shooter Training
Play Now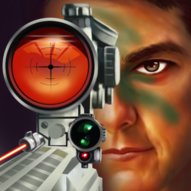 In Military Shooter Training, grab your sniper rifle, and show everyone that you're the best sharpshooter around. In this training program, many challenges are waiting for you. Perfect your aim, hit the bullseye, and collect medals to prove your skills!
Sniper rifle is a great weapon to get rid of enemies from a safe distance, and no one could notice they're being targeted until it's too late. But to become a master of this silent and stealthy weapon, you need proper training. In this game, your objective depends on the mode you choose to play. The Stage Mode offers solo gameplay, and your goal here is to reach the target score by shooting the training dummy. You have limited ammo, so make sure your every shot counts! The second mode is named Time Race, and you try to hit as many targets as you can with a single bullet before your time runs out. If you believe you honed your skills enough for a challenge, then head to the Multiplayer mode. In this mode, you'll be matched with another player and try to win each game by being the one with the highest score. Each game mode has multiple levels for you to complete, and you can aim and shoot with your mouse. Do you have what it takes to earn all the medals?
Don't drop your weapon just yet! More action is waiting for you in our other popular title, Stickman Shooter 2. Have fun!
Features
Colorful 3D graphics
3 different game modes to play
Intuitive controls
Both solo and multiplayer game options
Entertaining and challenging gameplay
An in-game shop to buy different gear
Controls
Click and drag your mouse around the screen to aim. Release your hold to fire.