Play Now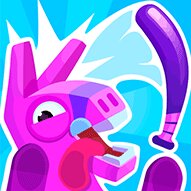 Pop icons, fantastic creatures, famous characters; everything is pinata-worthy in Pinatamasters 2 universe. From holy and mighty hammers of Gods to Molotov cocktails, you are in charge of the weapon choices against these creative pinatas. You get to keep your eyesight, so focus on upgrading your attacks and aiming right to make the gold rain!
Rainforests, snowy mountains, tropical sunsets; every scene is somebody's birthday background. But you have nothing to do with these people; you are here for the pinatas filled with gold. Starting with a katana, you aim and shoot to make it rain; but be careful, aiming right at the pinata does not always work and you have limited ammo. Collect the dropped gold and upgrade your ammo amount and attacks. You can also unlock different weapons with various attack speeds, ranges, and damages. Try all weapons and find the one created just for you to use fighting pinatas. Unlock faster shoes to help you collect gold, or you can aim for the gold upgrade from the start and earn more with every hit. Avoid falling bombs not to lose lives. Keep track of your ammo, and shoot between obstacles to use them efficiently. Master your weapon and rock the parties!
If you like showing off your aiming skills, you can check out more shooting games by clicking here.
Developer
kiz10.com developed Pinatamasters 2.
Release Date
December 9, 2021
Features
Colorful and funny theme
8 different pinatas
11 guns to unlock
Addictive and rewarding experience
Available on mobile devices
Controls
You can use your mouse to aim and shoot.