Play Now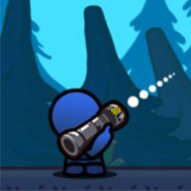 Overwhelm your foes with cunning strategies and explosive missiles with Bazooka Boy Online! Defend your colors with the best defense tactic: offense! Grab your bazooka and aim at the red soldiers, but do not forget to add the curve to your calculations! Shoot their bases down and destroy them in the most creative and absurd ways!
You must face a whole army by yourself, so now your new best friend is your bazooka. Hold on to it tightly and start getting used to the mechanics right now because there is no time left to lose! This weapon is not like any gun you have used before because the missiles go with a curve that makes aiming much harder. Adding enemies on moving platforms to this makes the victory seem even more difficult, but once you get used to the controls and movements, watching your missiles go will get extremely satisfying. Shoot your enemies down in the shortest time possible to earn more score points, and spare ammo to finish levels with three stars. Start the challenge with enemies standing still right in front of you, and by the time you finish the game, you will be able to shoot them under the trickiest circumstances!
If you like shooting games with puzzle challenges, you can check out Noob Vs 1000 Zombies and trade your weapon for a bow!
Developer
kiz10.com developed Bazooka Boy Online.
Release Date
May 27, 2022
Features
Colorful 2D graphics
Amazing effects
Increasing difficulty
Satisfying gameplay
Available on mobile devices
Controls
You can use your mouse to play this game.