Play Now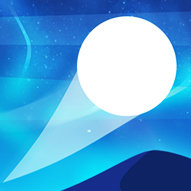 In Dune Surfer, an adventurous journey awaits you. Adventure is ready to swipe you off your feet and there are many places to see in this skill game. You won't even have to take your surfboard. All you need is a bit of skill and you'll be fine. Are you ready to take your surfing to new heights? Surf's up!
Is there anything better than surfing to relax and enjoy the world around you? That's exactly what you're going to do in this game. It's the perfect night for surfing and the world is waiting for you to share its wonders. Your objective is pretty simple. You need to make it as far as you can and achieve a high score. Click on the ball and hold it to speed up and release to fly. Try to stay in the air for as long as possible. Many coins await you there to take you to new lands. Shhh... You didn't hear it from us. The tricky part though is the landing. If you don't act at the right time and hold the left mouse button to dive, you might crash into ground. Try to collect as many coins as you can to unlock new ball types and new maps. Who knows, maybe you'll try winter surfing or surf on the high seas. It's your time to find out!
If you want to try a game similar to this one, play Cube Surfer and unleash your skills.
Developer
Developed by Inlogic Software.
Release Date
July 3, 2020.
Features
Colorful graphics
Multiple maps to unlock
Addictive gameplay
Many customization options
Controls
You can use your mouse to play. Hold to speed up. Release to fly, and hold to dive.